Learn How To Choose a Perfect Saree Meeting The Right Body Type
Posted by YOUR LIBAAS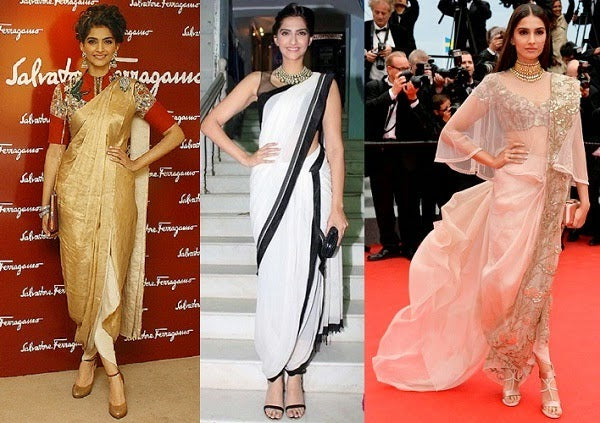 A saree is like a blessing in disguise, and not everybody can understand the captivating power it possesses. It's a mischievous piece of clothing that can make you a fashion icon or can banish you from the fashion world altogether. Existence of the Indian saree is as old as Indus Valley Civilization. Saree draping has come a long way, from a three-piece ensemble aiming to cover the navel at all costs to a completely new saree dress look.
Latest trends of silk or cotton sarees, a saree gown or even a saree with belt succeed in reinforcing the idea of 5 to 9 yards of cloth being the most "Indian" thing a woman can pull off. The real problem arises when a woman feels that her body type is not suited for a piece of clothing. It can't be emphasized enough that fashion caters to humankind and not the other way around. Hence, it's only a matter of time until you find a perfect saree that suits your body type and makes you feel like a goddess.
Things To Keep in Mind While Buying a Saree
What is The Occasion?
It's important to look for a saree design that perfectly suits a specific occasion. For instance, it's better to choose a 'dhoti saree' for your farewell because it would be easier to carry and would definitely give you a chic look.
Choosing The Right Fabric
Cotton sarees are best suited for hot summer days, but they form creases very fast. A silk saree can give off a formal yet classy look while a georgette or chiffon saree would definitely look pretty, would be easy to carry and would require less maintenance as well.
Prints and Colours
It's essential that a woman feels confident enough to choose any prints or colours that she likes without having the need to follow a rule book. However, preferring big prints and a maximum of 3 colours can add more substance to your look.
Understand Your Body Type
The solution to finding the right saree requires you to understand and accept your body shape first. For instance, cotton or silk are thick materials that can give you a heavy look while Italian, Crepe, Georgette or Chiffon tend to stick to your body, giving off a slim look.
Cinderella spent more time in making a perfect dress rather than finding a perfect date to the ball. This should be an inspiration to all of us. Fashion takes time but finding a saree that compliments your body type might be easier than you imagined.
How to choose a perfect saree according to your body type
Apple-Shaped Body
Women who have heavier bust and waist with slender legs and arms are considered to have an apple-shaped body type. A silk saree with embroidery work is the perfect match for this shape. If you feel under-confident about your arms, then you can opt for a long sleeve contrast colour blouse. The best option is to wear a Banarsi Silk Saree with an 'ulta pallu' which would stray the attention away from your heavy areas and would be successful in showing off your curves too.
Pear-Shaped Body
Women of this shape have a petite upper body and a heavy bottom. Chiffon or georgette sarees are the perfect match to this shape as they would stick to the body and enhance its natural curves. But, this in no way should be a signal to drape a saree mermaid style because that might make you look heavier than you really are. Opting for sarees of bright colours with embroidery work and detailing on blouse or pallu should be your go-to.
Skinny Body Type
Having a perfect mix of curves and skinniness is the most common yet the most unrealistic thing to want. However, choosing fabrics like cotton, silk or khadi to add in more curves to your body is a realistic solution to go for. The usual saree draping style with drapes left a bit flared would add the much-needed charm in your appearance. It's better to ditch the borders and go for beautiful prints paired with a high-necked blouse.
Short-Heightened Body Type
It's time for short-heightened women to break the myth that they can't carry a saree well. Opting for lighter sarees and heavier blouse with long sleeves can give off the impression that you are tall. It's important to ditch wide borders and big patterns that can make you look smaller and wider. Accessorizing your saree is a must; choose the right heel length, statement necklace or clutches that can elevate your look.
Overweight/Plus Size Body Type
It doesn't matter if you have excessive curves in your overweight body that the society loves to talk about because you can still rock a saree as good as anybody else. Make sure that you pair up a simple silk blouse with a plain saree as nothing beats simplicity. You can try to make a few broad pleats in the front too. Wearing a light fabric can make a huge difference, and hence wearing a crepe or chiffon saree ought to make your body look slimmer.
A woman in all her Indian glory wearing a beautiful saree can personalize her look further by adding some kohl in her eyes, a bindi on the forehead, some dazzling jhumkas and a much needed bold red lipstick. From ruffled sarees to sarees with peplum blouse to fringed sarees to shirt blouse, the world of Indian fashion has definitely changed. Sarees are no longer considered to be outdated, rather than that it is one of the greatest Indian inventions that are in vogue. So ladies, get your sarees on because it's time to crash the Bollywood party.
– Posted by Anushka Batra
Collection 2019
Sale 70% Off
Title for image