5 Fun Ways To Style Those Palazzo Pants And More
Posted by YOUR LIBAAS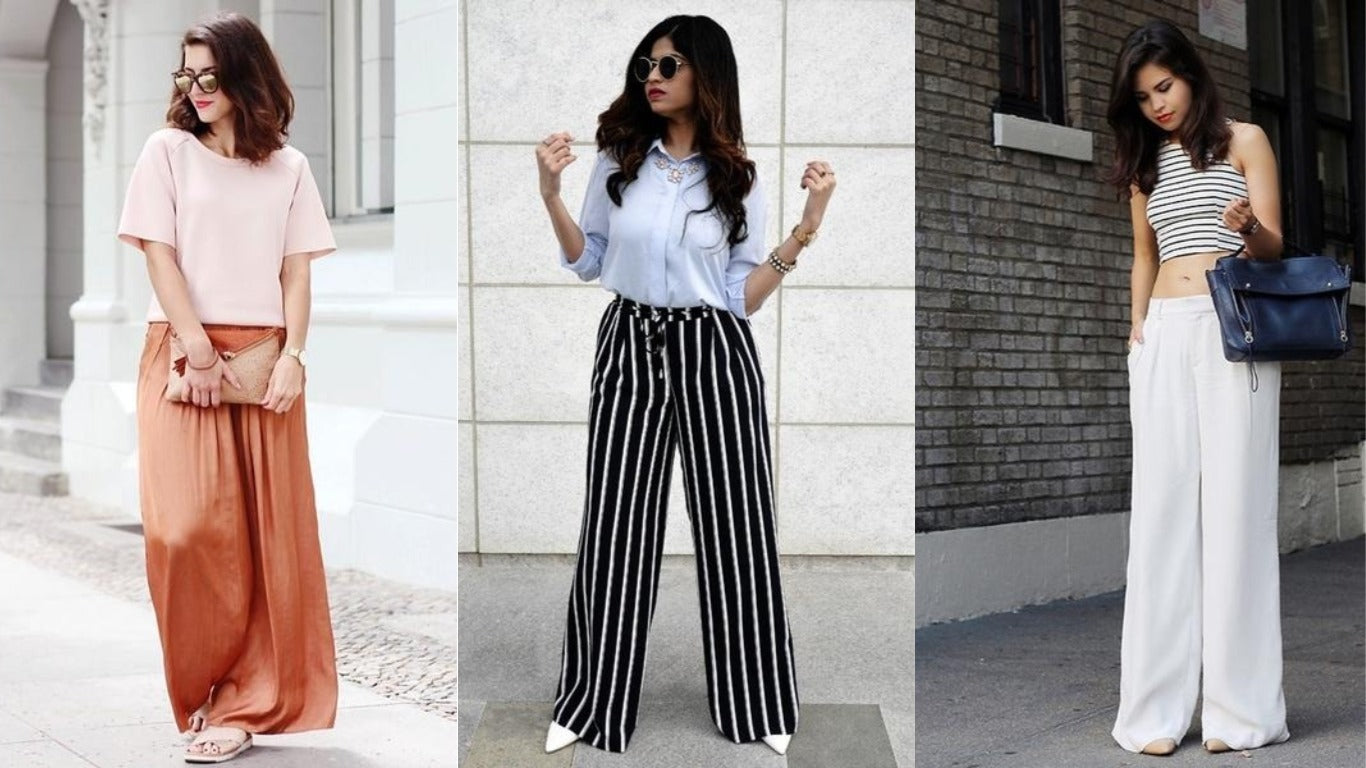 In the fashion world, there are no rules. Many people dress up to show who they are or what their personality is, but for the true dreamers and makers of the style world, clothes are a form of escapism. They escape from reality and live for themselves for a change. This being said, many trends are making a huge comeback from the 1960s, a period where bold colours, gloves, large sunglasses were a major hit among the stylish ones. One such trend that is here to stay back is the Palazzo pants.
They are often compared to the boot-cut jeans which have a flared length which runs down from the hips, but palazzo pants are way more old-fashioned some of which can end up covering your entire legs! They are among some of the rare clothing choices which can be worn for almost any event like to work, for a shopping spree, parties, or even to weddings. It has been in style from the 60s era, and it comes as no surprise that this trend is back with a more modern kind of twist.
They are super comfortable for any part of the day, and the even bigger part is it fits every kind of women. So cast your fears away and turn this all-time impressing clothing. Now they are lots and lots of ways in which you can wear them, and you have the absolute freedom to style them according to your liking. If you are confused as to what kind of options are available to rock these pants to their best or which type of material is the best, then you are the right place, my friend. Scroll down and take notes on all you want to know about how to dazzle in those long flared palazzo pants.
Ways To Style The Palazzo Pants
The millennial of any part of the world come up with innovative ideas on almost any and every concept, and it is no doubt that in the fashion they strive to be updated in every nook and corner. Here are some of the majority of the combinations that have been tried out by the group of the palazzo lovers and proven to be worthy of every bit.
1. One Cannot Go Wrong With The Palazzo-Kurti Combo
Most of them desire both the long and the short Kurti for different reasons and the palazzo pants do justice for both these choices again for various reasons. When you are pairing a short Kurti, it makes a nice combination and you can pair it off the nice pair of sandals. In the case of a long Kurti, you get to amaze everyone with that desi look and what's more, it is much comfy than ever.
A casual date or an informal meeting can be the smallest of excuses to enjoy this blend of versatile
The same colour of both upper and bottom wear can be gracefully carried on.

2. A White Tee Is Mandatory
You can very well style it with a leather handbag or even a silver clutch
The iconic fashion designer Giorgio Armani was not wrong when he stated: "I've always taught of the T-shirt as the Alpha and Omega of the fashion alphabet." T-shirts are the casual outfits that are used for any kind of informal event. When it is paired with a plain or a striped palazzo pants then voila you have got yourself a killer look.
3. Why Not A Crop Top?
Many of the western cultured trends are becoming popular in our country. May it be clothing or even food habits, people here tend to have a greater kind of desire to be unique in everything. So when a crop top is worn with these wide-leg pants and some basic accessories like a black eye pendant or some bracelets are added to the look, it is a nice and breezy look which you can try on a nice sunny day or for some casual outing too.
4. That Ethnic Touch With Salwar Suits
You would have noticed how celebrities opt for a designer suit for weddings or casual events which consists of a highly embroidered set that could either be a long Anarkali top or even a long salwar kameez top that ends just a bit above your ankles. Now if it is the palazzo pants that you choose for the bottom wear, then make sure it is of a lighter colour if the upper wear is of a darker colour and vice versa so that both of them are balanced and it gives an elegant look.
5. Shirts for every occasion!
The best office wears to look both chic and comfortable are the palazzo pants. The look that could make heads turn can be the one when you pair these flared pants with either a striped shirt or a plain shirt with sleeves rolled up. As this style can never go wrong, it totally up to you to make it more interesting by your accessories and personality, of course!
Patterns Of The Palazzo Pants
You would have seen that there are different types of patterns in these wide-leg pants. The best option when it comes to the topic of material for the palazzo pants is lace. Let it be a top with a lace pattern, or you could even customize the pants with an authentic lace finish. Trust me, this would never go wrong.
A few other patterns include embroidery, striped, leopard, floral, etc. There are some myths that these palazzo pants are not for the plus size women or the ones who are shorter, but it is never up to others how you want to be. Don't believe me? Try it for yourselves and then you will be astonished by the after look.
Shoes You Can Wear With These Flared Pants
Wearing flats along with the flared pants can make you look more dull and droopy, so it is a really bad choice no matter how well you try to accessorize them but if you are a busy bird who has to spend the next 18 hours running up and down in the office then no better choice then flat sandals. You can choose nude heels for bold coloured pants as it will enhance your complete look. In the winter season, you have another amazing choice for which you can opt for: Boots. If you are looking for another casual yet striking footwear, then sneakers are the answer!
Final Thoughts
There is nothing like strict rules that only one material should be paired with another specific one, and so on. It depends upon the part of the day or your mood as to how creative you want your look to be. Though one important point to remember is that if you wanna wear, say a quirky or a bold coloured top, then it should be paired with calm, plain bottom wear. As said before, palazzo pants are the best clothing choices that have recently emerged and made many lives better. So don't shy away from experimenting and all the more enjoy the process!
– Posted by Nikitha Terence
Collection 2019
Sale 70% Off
Title for image