10 Traditional Embroideries of India
Posted by SHIFA FATIMA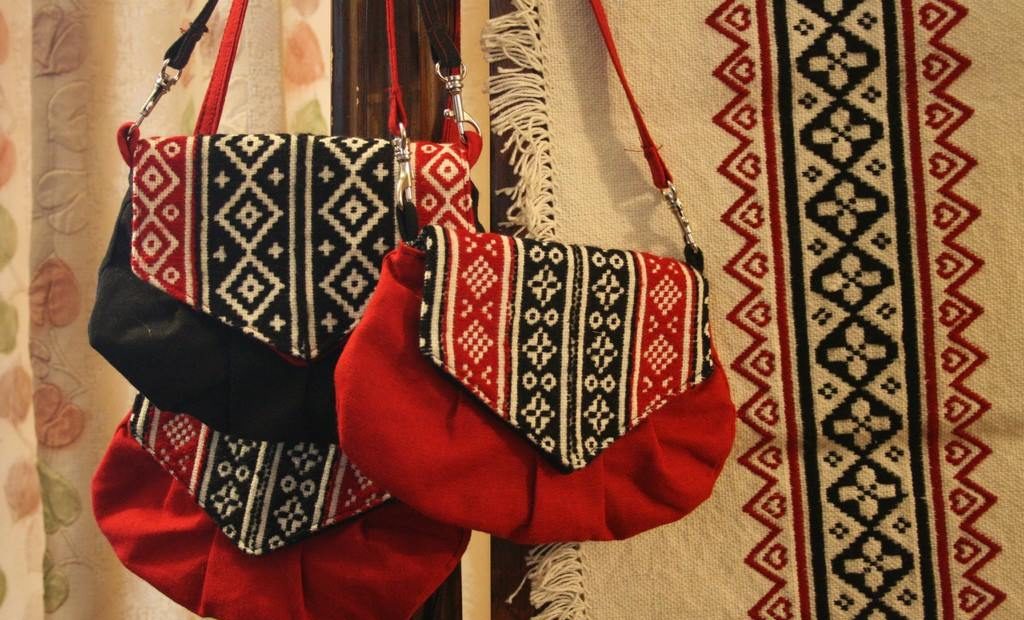 Embroidery in India has come a long way. As fashion trends changed with time, Indian Embroidery adapted to the new climate and managed to remain elegant and sophisticated. While each embroidery technique possesses its speciality, one thing is for certain, each one of them makes a serious style statement. 
Let's take a glance at 10 Traditional Embroideries of India that bring with them an edge on the fashion front: 
1. Chikan / Chikankari
Origin: Rumored to having been introduced by Noor Jahan, wife of Jahangir, Chikankari originated from Lucknow, Uttar Pradesh. It began with white embroidery on a white cloth, but today, it is available in all colours imaginable.
Creation: Requiring patience and skill, this embroidery is done by stitching on patterns traced on a variety of cloth materials like muslin, silk, chiffon, net, cotton, etc. Initially, white thread was used to depict motifs of nature (flora and fauna), but now coloured threads are used as well.
Style: From sarees to suits, lehengas to palazzos, chikan embroidery is chosen by women to showcase elegance which comes guaranteed with the intricacies of the stitches and patterns. Suitable for both daily wear and special occasions, you can make a distinguished style statement whenever you wear chikankari.
Origin: Introduced by the Mughals in the 16th century, Zari is the very form of opulence. The word Zardosi comes from Persian words for gold (zari) and embroidery (dosi). 
Creation: Metallic threads were used on silk and velvet. Originally, Zardosi embroidered clothes used gold or silver threads with precious stones and pearls making them luxury items, exclusively worn by the rich. 
Style: While previously this embroidery was a mark of the rich, nowadays gold-coloured plastic threads are used, making this form of art more affordable. Available on sarees, suits, blouses, and lehengas, Zardosi gives you the rich look which brings with it confidence and glamour.
3. Aari
Origin: The name of this embroidery comes from the hooked, sharp needle, which is used for this technique. Aari owes its origin to the Mughals and is practised in Rajasthan, Lucknow, and Kashmir. 
Creation: The very image of finery, the Aari embroidery is created by using a hooked needle to make chain stitch loops, often using beads and sequins for embellishments. 
Style: With highly detailed designs inspired by nature, Aari stands apart in its richness. Oftentimes focussing on the body of the saree, the blouse is left plain, which adds to an unparalleled style statement. Easy to maintain and style, any material with Aari embroidery provides comfort with fashion. 
4. Banjara
Origin: The nomadic tribes of Banjara did not limit themselves to a single geographical location which allowed this style of embroidery to disperse across various regions, facilitating variations in the technique and designs. 
Creation: Using a brightly colored base cloth, motifs for this embroidery are highlighted by cross-stitch in geometric patterns. Chain stitch and overlaid quilting stitch is also used for unique designs, sometimes embellished with mirrors and beads.
Style: With a combination of patchwork and Mirrorwork, the Banjara embroidery gives vibrance to the everyday ethnic look. It is included in both modern garments as well as the traditional ones. You can find Banjara embroidery on dresses, suits, lehengas, blouses, and bags. For a casual and bright look, Banjara embroidered clothes or accessories are the best options. A fusion look can also be effortlessly created by mixing a Banjara embroidered bag with a western outfit along with the signature ethnic look with traditional accessories. 
5. Gota
Origin: Born in Rajasthan, this embroidery technique uses zari from Lucknow to trace elaborate patterns, creating different surface textures. 
Creation: Used with kinari work, Gota embroidery was originally done with gold and silver wires of varying lengths woven in a satin or twill weave. Fabrics such as georgette or bandhini are chiefly chosen upon which the Gota is appliquéd by hemming or backstitching.
Style: With the motifs of nature, Gota embroidery gives a graceful and royal impression. Often chosen for auspicious occasions, clothes decorated with Gota are highly embroidered, looking heavy to carry, but surprisingly light. It is chosen by brides for its unique patterns and lightweight design, variety in colors, and choice of fabrics. Available in suits, dupattas, sarees, ghagras, and lehengas, for an ethnic look meant for celebration, Gota embroidered clothes are the way to go.
6. Kantha
Origin: From East Indian states like West Bengal, Odisha and Tripura and Bangladesh, comes Kantha embroidery, chiefly practiced by rural women. 
Creation: With varying motifs of flowers, animals, celestial objects, and geometric patterns, Kantha embroidery is done by stitching on the cloth, which gives the cloth a wrinkled and wavy effect. Originally done to create cushions, blankets, sarees, and bedspreads, now Kantha is used in dupattas and shirts for both men and women.
Style: With Kantha embroidery now available on kurtas and suits, fashion with comfort has reached new heights. Giving the appeal of leisure, Kantha embroidery can be chosen for its richness that completes any look on its own without much need for accessories. The fabric is easy to maintain and style, adaptable to numerous occasions, and effortlessly trendy.
7. Phulkari
Origin: Mentioned in the folklore of Heer Ranjha, Phulkari comes from a rural embroidery tradition in Punjab. Its present form can be traced back to Maharaja Ranjit Singh's reign in the 15th century. 
Creation: The base cloth is dull, often handspun khadi, which is then completely covered with bright coloured embroidered design leaving no gaps. Each motif follows a geometric pattern with motifs of nature (chiefly flowers) using darn stitch for easy vertical, horizontal, and diagonal threadwork.
Style: Previously chosen khaddar is being rapidly replaced by fabrics such as georgette, chiffon, and cotton and along with hand-embroidered clothes, machine-made clothes have made this style more accessible. With a phulkari suit, mixing and matching is a bet you can't lose. With oxidized silver jewelry, you can easily achieve the right ethnic look. Phulkari Kurtis can be paired with jeans for a contemporary look while lightly embroidered suits can be used for daily wear. Traditionally a bridal outfit, Phulkari can also be chosen for a cheerful festive look in a wide range of colours.
8. Shisha / Mirrorwork
Origin: Brought into India by Iranian travellers during the 17th century, Mirrorwork was originally done with Mica. Patronized by Rajasthan, Haryana, and Gujarat, Mirrorwork varies in use and style according to region and taste. 
Creation: Using a special cross stitch, mirrors (of various sizes and shapes) are affixed to apparel, and the fabric is then decorated with similar stitches to enrich the overall appeal of the cloth. 
Style: From apparel to accessories, mirrorwork is largely used and widely loved. With plenty of options available, clothes with Mirrorwork can be worn as daily wear or on special occasions. Despite the constantly changing fashion trends, Mirrorwork stays in vogue because of its incomparable approach to embroidery. 
9. Toda
Origin: Called 'pohor' (flower) in the Toda language, Toda embroidery comes from the Toda tribe which belongs to the Nilgiri Hills of Tamil Nadu. It is practiced exclusively by Toda women.
Creation: Traditionally using black and red woolen threads on a coarse white cloth, Toda embroidery depicts motifs of nature and/or celestial bodies in a geometrical pattern. A single stitch darning needle is used for a reverse stitch method which then makes a pattern that seems to come out of the cloth, giving the piece a rich look.
Style: The Toda men and women wear cloaks and shawls of this embroidery on celebratory occasions or funerals. Today, this embroidery isn't restricted to bedsheets or cushion covers. Apart from cloaks and shawls, Toda embroidery has made its way to sarees that are perfect for an ethnic look with an edge that is unique to the Toda embroidered clothes. 
10. Kashmiri
Origin: This embroidery borrows its name from its place of birth, Kashmir. Also known as Kashida embroidery, the cloth for this embroidery was woven and embroidered by the members of the same, often extended, family.
Creation: Dark-colored woollen clothes for winter, light (and bright) coloured cotton clothes for summer are chosen upon which base patterns are created. A single stitch is used for a single design and the entire pattern is completed in a few stitches. The often chosen motif is everything related to flora, from flowers to intertwining vines, from leaves on branches to blossoming flowers. 
Style: Kashmiri embroidery is a popular choice among women, especially in winter. No one needs any introduction to Pashmina shawls and the Kashmiri suits are widely picked for their vibrance and warmth, providing a distinctive look. Styled with likewise embroidered juttis and oxidized silver jewelry, you cannot go wrong with Kashmiri embroidery. 
As you probably know by now, Embroidery is Art That You Can Wear. You have numerous choices that come from the range of the fabric chosen, the kind of stitch made to that fabric, motifs used, and colors of threads used in those motifs. From the texture to the design, the color to the fabric, each element in every embroidery tells a story. Whether you choose Zardosi or Phulkari, Kashmiri, or Gota, Shisha, or Chikankari, you should know that when it comes to making a fashion statement, Embroidery never goes out of style.
– Posted by Anusha Lall
Collection 2019
Sale 70% Off
Title for image